Siguldas Valsts ģimnāzijas skolēni uzņem ciemiņus no Vācijas
Draudzība starp Siguldas Valsts ģimnāziju un Tessinas (Tessin) Reģionālo skolu Vācijā aizsākās jau tālajā 1987. gadā. Tieši septembrī  deviņpadsmit vācu skolēni un divi skolotāji (Dirk Volprich un Ute Thiele) no netālās zemes uz nedēļu (18.09. – 25.09.) dzīvoja pie saviem draugiem Siguldā. Šo 27 gadu laikā izveidojusies cieša draudzība gan skolēnu, gan skolotāju vidū.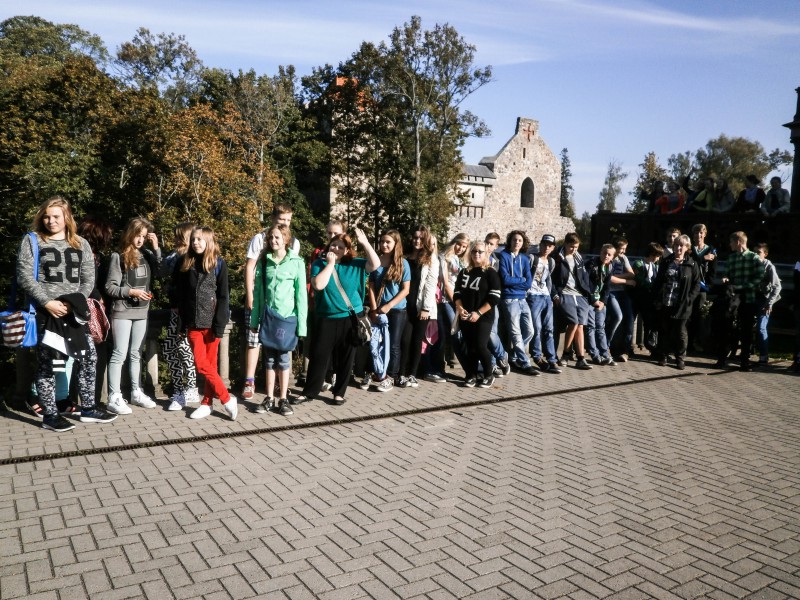 Šī skolēnu apmaiņas projekta ietvaros vācu skolēni apskatīja un izstaigāja Siguldas un Turaidas krāšņākās un pazīstamākās vietas, izbaudīja sporta aktivitātes, tuvāk iepazinās ar Siguldas Valsts ģimnāziju, apmeklēja galvaspilsētu  un Minhauzena muzeju Duntē, izbaudīja ģimenes dienu, kad viesģimenes plāno, ko un kā darīs. Līdztekus draudzībai un izklaidei bija paredzēts laiks arī kopīgiem projektiem – skolēni izstrādāja mūzikas, mākslas un deju projektus un prezentēja tos kopīgā atvadu pasākumā. Skolēni šī projekta ietvaros pierādīja  savu prasmi komunicēt un sadarboties, jo lielākoties bija jādarbojas jauktās grupās.  Neliels ieskats projekta norisē.
Piektdiena, 19. 09.
No rīta Siguldas Valsts ģimnāzijā notika tikšanās ar skolas direktoru V. Trupavnieku, kurš apsveica Tessinas delegācijas skolēnus un skolotājus ar ierašanos Latvijā, novēlot piedzīvojumiem bagātas, interesantas un skaistas dienas. Direktors īsā uzrunā iepazīstināja klātesošos ar Siguldas Valsts ģimnāzijas vēsturi un aktuālo informāciju par skolu.
Pēcpusdiena viesiem un viņu pavadītājiem pagāja, iepazīstoties ar Siguldas kultūrvēsturisko centru un apkārtnes skaistākajām vietām. Svētku laukumā visiem bija iespēja pārbaudīt savu veiklību, piedaloties dažādās aktivitātēs, gatavojoties boulinga sacensībām.
Sestdiena, 20.09.
Baudot saules siltumu un rudens krāšņumu, skolēni ar autobusu devās uz Duntes pusi,  uz Minhauzena muzeju. Visus sagaidīja svinīgi ģērbusies Jakobīne, un melu stāsti varēja sākties. Viss, protams, jāklausās vāciski, un visam teiktajam jātic, ka tā tiešām ir noticis īstenībā. Stāstījums bija interesants un saistošs, to visu laika papildināja Jakobīnes uzdotie jautājumi un skolēnu dotās iespējamās atbildes.
Vēlāk pašiem bija jāizstaigā Minhauzena taka līdz jūrai un atpakaļ. Saules vizuļos jūra likās īpaši skaista. Pēc nelielas atelpas skolēni devās atpakaļ uz piknika vietu.
Savu meistarību ātrā uguns iekuršanā parādīja mūsu zēni, it īpaši Nauris Abzalons un Daniels Čiževskis pierādīja sevi arī kā iznesīgus jaunos viesmīļus, piedāvājot visiem pārējiem piknika desiņas. Tad sekoja  atpakaļceļš uz Siguldu.
Pēcpusdienā  visi devāmies uz bobsleja trasi, kur gan vācu skolēniem, gan mūsējiem bija dota  iespēja nobraukt pa trasi lejup. To izmēģināja arī vācu skolotāja Ūte Tīle, kura pie mums Siguldā  bija pirmo reizi.
Vakaru visi pavadīja savās ģimenēs.
Svētdiena, 21.09., tika pavadīta kopā ar savām viesģimenēm, kuras gādāja, lai viesu skolēni pēc iespējas vairāk iepazītu Latviju un tās cilvēkus, kultūru un sporta aktivitātes.
Pirmdiena, 22.09.
Nebaidoties no lietus un vēja brāzmām, skolēni draudzīgos pulciņos devās pārgājienā uz Turaidu. Pa ceļam tika apskatīta Gūtmaņa ala un Nacionālā parka informācijas centrs, kā arī Siguldas senlejas brīnišķīgās dabas ainavas. Turaidas muzejrezervātā visi piedalījās pētnieciskā projektā – tika sadalīti trīs grupās un saņēma darba lapas angļu valodā ar uzdevumiem. Katrai grupai bija jāatrod konkrēti objekti un jāatšifrē atslēgas vārds. Pildot uzdevumus, valdīja īsts sacensības gars un jautrība. Noslēgumā katra grupa saņēma novērtējumu un balvas.
Pēcpusdienā skolēni darbojās mākslas projektā skolā (par tā realizēšanu rūpējās mākslas skolotāja Kristīne Apine) un iedzīvināja Siguldas dabu krāsās un tēlos.
Otrdiena, 22.09.
Kas būtu ekskursija uz Latviju bez Rīgas apmeklējuma?
 Laika apstākļi gan nebija visai pateicīgi, līņāja un pūta vējiņš, tāpēc pastaiga pa Vecrīgu iznāca diezgan steidzīga, pieturas punktus izvēloties tur, kur aizvējš. Bet Rīga viesiem patīk- patīk sakoptā vide un atjaunotā Vecrīga. Protams, visi ir priecīgi par atvēlēto brīvo laiku, tāpēc ar aizrautību skolēni pēta mūsu suvenīrus, ko aizvest uz mājām saviem tuviniekiem.
Vēlāk pusdienas "Lido" kompleksā, kur viesi  var iepazīties ar latviešu nacionālo virtuvi un ne tikai, piepildīt savas vēlmes un arī aktīvi atpūsties.
Trešdiena, 23.09.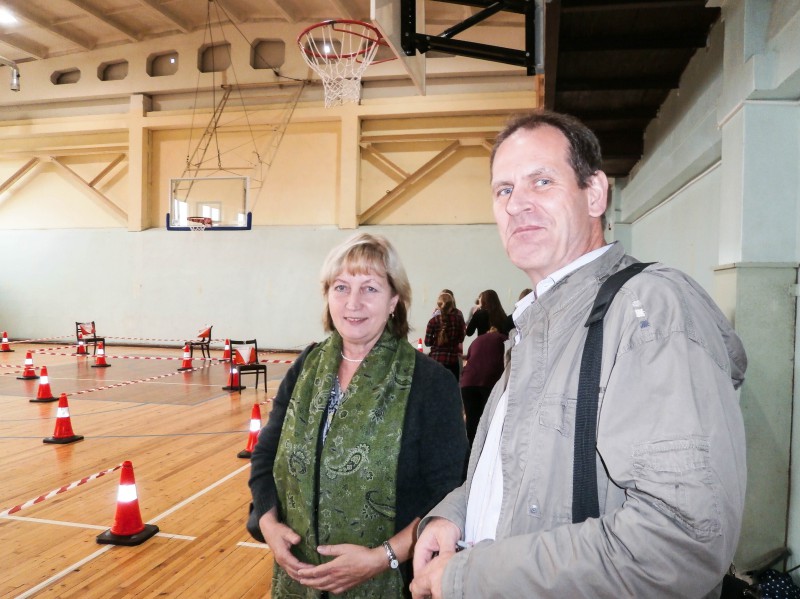 Šī diena pilnībā veltīta skolai un darbam pie projektiem. Skolēni kopā mācījās latviešu dziesmas, Anna Barisa un Ketlīna Narkēviča, 10.a klases skolnieces, iejutās skolotāju lomā, un tas viņām brīnišķīgi izdevās. Deju projektu vadīja Indra Ozoliņa, tajā viņa iemācīja gan mūsu, gan vācu skolēniem  latviešu tautas deju "Cūkas driķos", kas prasīja īpašu aktivitāti un atraktivitāti. Sporta projektā skolēni parādīja savas spējas orientēties telpā, par ko gādāja skolotājs Jānis Bukins un Ralfs Miķelsons. Sadarbības projektā Ilzes Koļesnikovas vadībā skolēni veidoja prezentācijas un gatavoja stāstījumu par sadraudzības projekta dienām un pasākumiem.
Diena bija piesātināta, taču emocijas atklājās vakarā, atvadu pasākumā, kurā visas dienas garumā iepazītais un iemācītais bija jāatrāda. Par koncerta emocionālo noskaņu parūpējās 10. klases meitenes – Anna Barisa, Ketlīna Narkēviča, Paula Luīze Zavicka un Kristīne Jakovļeva – kuras ar dziesmu "Pūt, vējiņi!" atklāja pasākumu. Par sadarbību pateicās gan vācu skolotājs Dirks Volprichs, gan Siguldas Valsts ģimnāzijas direktors Vilnis Trupavnieks un projekta koordinatore Inguna Vuškāne, uzsverot, ka īpaša nozīme sadarbības veicināšanā ir ne tikai skolēniem, bet īpaši vecākiem, kuri uzņemas rūpes  par viesu skolēnu. Direktors pateicās arī vācu valodas skolotājām – Dzintrai Melderei un Airai Langenfeldei – par sadraudzības projekta realizēšanu.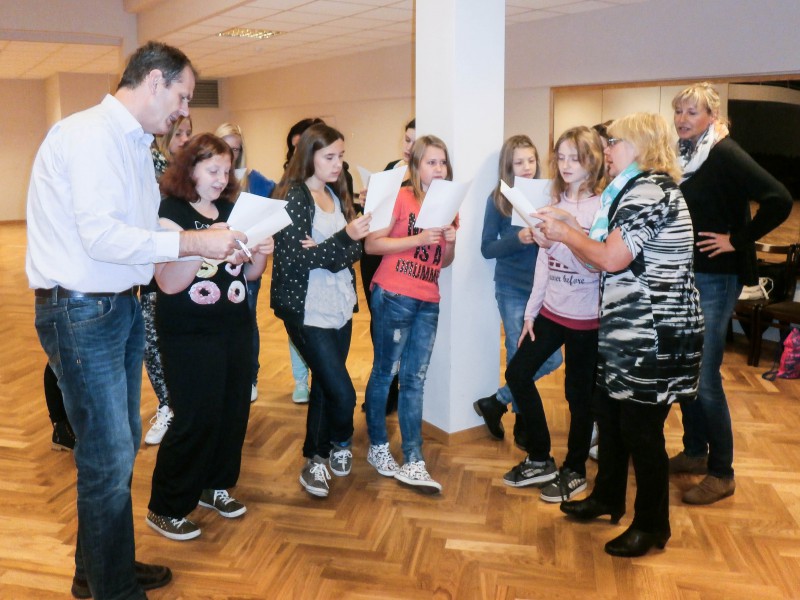 Sigulda vāciešiem patīk. Lai arī maza pilsēta, tā Vācijā ir labi zināma. Atsaucoties uz vācu skolotāju vārdiem, draudzība var pastāvēt tikai tad, ja to uztur un kopj. To mēs arī darām jau 27 gadu garumā. Vēlamies pateikties visiem skolēniem un vecākiem, kuri šajās dienās atbalstīja viesu uzņemšanu, it īpaši tiem, kuri uz uzņēma pat divus viesus (Zanes Sabules , Lotes Cērpas, Annijas Vītoliņas, Sigitas Lapiņas un Elizabetes Lazdiņas ģimenes). Pateicamies arī visiem skolotājiem, kuri aktīvi iesaistījās projekta norisē. Nākamā gada septembrī mēs būsim laipni gaidīti viesi apmaiņas braucienā Tessinā.
 Dzintra Meldere,
Aira Langenfelde