Viena no skolas mācību darba prioritātēm ir attīstīt skolēnu radošās spējas, tieši tāpēc mācību procesā tiek rīkota Radošo olimpiāžu diena, kurā  skolēniem ir iespēja atklāt savus talantus un darboties, integrējot dažādus priekšmetus un jomas.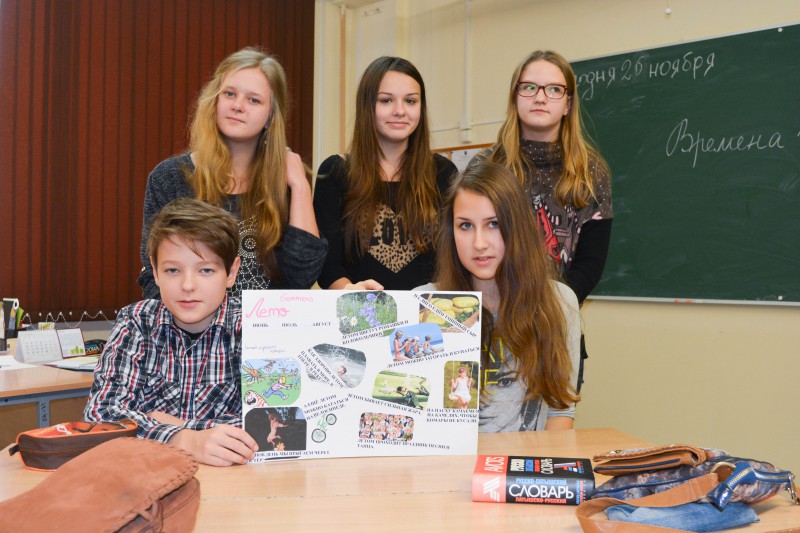 7.a klases skolēni darbojās Valodu dienā un caur dažādām prasmēm – gan mācoties dziesmu franču valodā Ineses Ērmanes–Peičas vadībā; gan caur zīmēšanu un prezentāciju veidošanu  iepazinās ar folkloru krievu valodā; gan angļu valodā populāru dziesmu vārdus atklāja dažādos uzdevumos. (Skolotājas: Ineta Dvinska, Alla Komorkoviča, Valentīna Rišē)
7.b,c klašu skolēni iepazina ģeogrāfijas jēdzienus un atklāja tos caur literārajiem žanriem: dzejoli, pasaku vai stāstu, kā arī veidoja īsu uzvedumu par dzīvi dažādās dabas zonās un prezentēja to. (Skolotājas: Ilze Koļesnikova, Kristīne Ķīsele)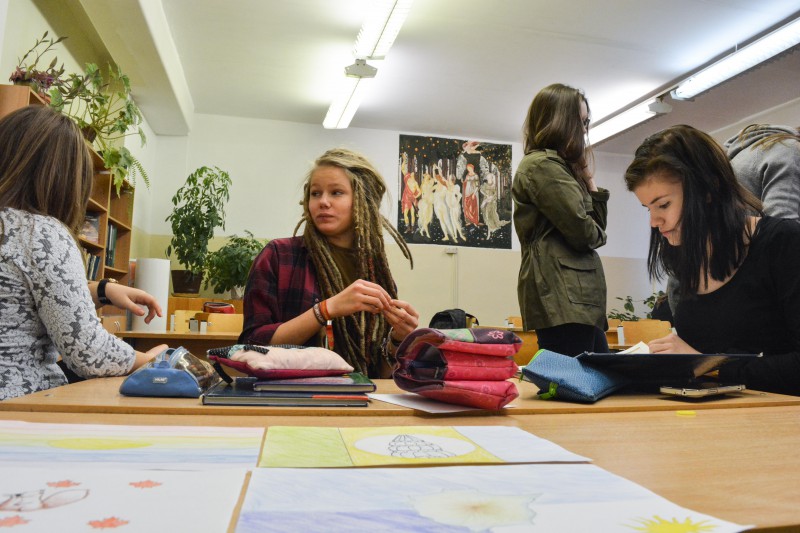 8.a klase attīstīja savas prasmes un parādīja savas zināšanas ģeogrāfijas radošajā konkursā "Valsts karogs", salika pasaules kontinentu puzli, veidoja prezentācijas par kādu no Eiropas valstīm, kā arī sacerēja stāstus par tēmu "Apmaldījies mūžamežā". (Skolotājs Alfons Saušs)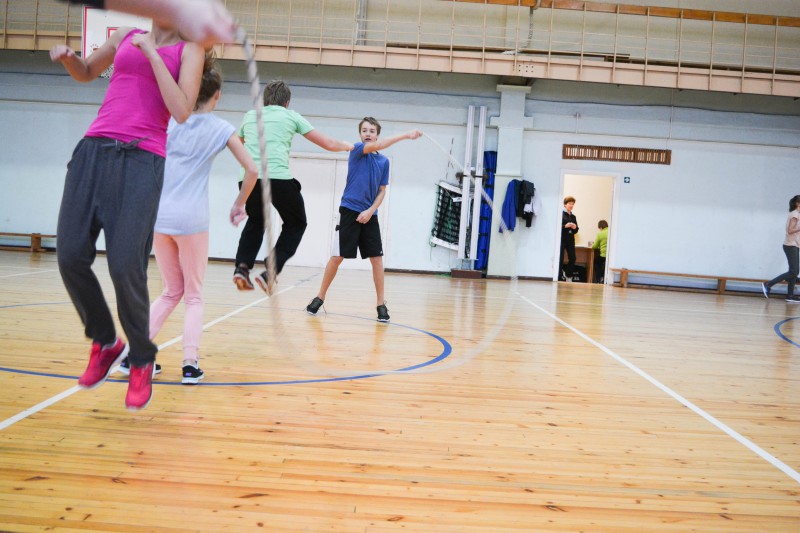 8.b klases radošā olimpiāde tika veidota, lai skolēni varētu pilnveidot savas prasmes un iemaņas dažādos sporta veidos, zināšanas un erudīciju sporta teorijas jautājumos, kā arī meklēja radošu pieeju, attēlojot dažādus pazīstamus sporta veidus, izmantojot pantomīmas elementus. (Skolotājas: Anda Vīksna, Ineta Lapacinska)
8.m klase savu radošo olimpiādi iesāka ar foto orientēšanos pa Siguldu. Skolēniem bija jāatrod dotie fotopunkti un katrā no tiem jāizpilda attiecīgie norādījumi (piemēram, cik dažādu veidu saldumu nosaukumu ir uz Laimas pulksteņa; konusveidīgo zvanu skaits skulptūrā u.c.). Katrā fotopunktā iegūtā atbilde  jāieraksta atbilžu lapā. Ierakstītie skaitļi  jāizmanto, lai pēc tam varētu atrisināt dažādus uzdevumus matemātikā. Skolēni strādāja komandās. Katrai komandai bija jāpadomā par savu noformējumu. Katrā fotopunktā komandām bija arī jānofotografējas pie atbilstošā kontrolpunkta pēc uzdevuma veikšanas. Iegūtās bildes katra komanda ievietoja datorā, lai kopīgi radošās olimpiādes beigās varētu paskatīties uz paveikto. (Skoltāja Daiga Jēkabsone, palīdzēja Jānis Bukins)
       9.a klase, izmantojot dažādus informācijas avotus, iepazinās ar angļu valodā runājošo valstu tradīcijām, ievērojamiem cilvēkiem, literatūru, mūziku. Skolēni strādāja grupās un radoši interpretēja iegūto informāciju. (Skolotājas: Irēna Ivanova un Aira Langenfelde)
       9.b klases skolēni, pa pāriem strādājot, vizualizēja (animācija, video vai foto u.c.)  skolas iekšējās kārtības noteikumus. (Skolotājas: Saiva Vītola, Inta Kursīte)
       9.m klase devās uz Cēsīm, lai iepazītos ar Z(in)OO centru un uzzinātu, kā notiek gatavošanās ceļojumam uz Marsu, un veiktu dažādus radošus uzdevumus. (Skolotājas: Indra Upīte-Dambīte, Iveta Celmiņa)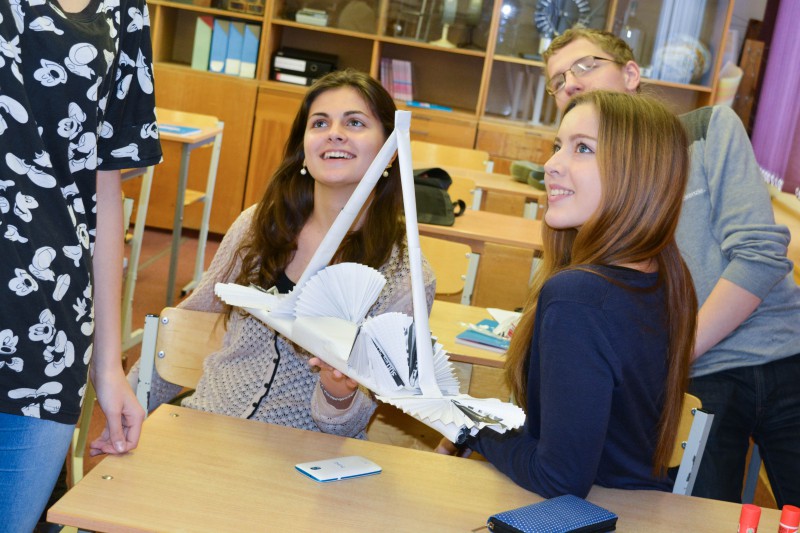 10.a un 11.a klase bija jaunie inženieri un piedalījās papīra tiltu radīšanā un testēšanā, lai noskaidrotu, kurš no tiem ir izturīgākais. Drīzumā RTU rīkos papīra tiltu būvniecības sacensības, un šī bija lieliska iespēja skolēniem iepriekš izmēģināt savas spējas šajā virzienā. Skolēnus apmācīja un procesu vadīja studenti no RTU būvniecības fakultātes. (Skolotāji – Jānis Bukins un Vaira Siliņa)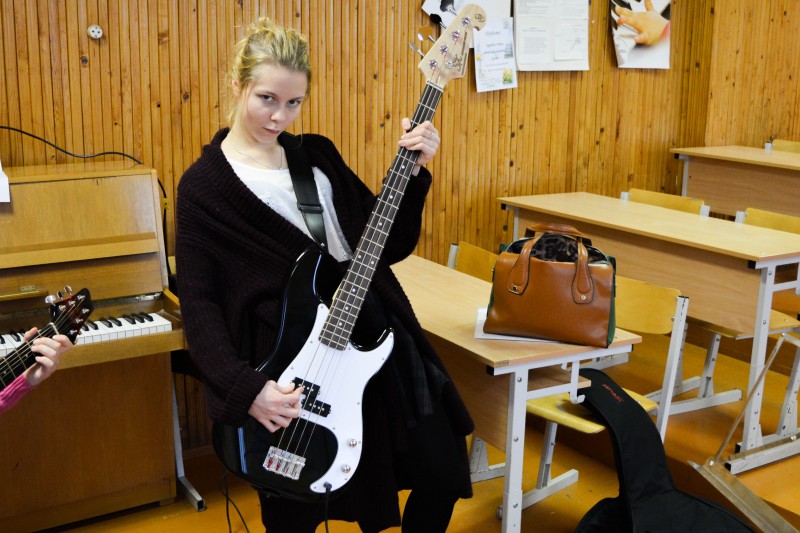 10.b un 10.d klases skolēni strādāja pie radošā dzejas kopprojekta "400 g literatūras – Mārtiņa Freimaņa dzeja". Katras klases skolēni grupās veica radošos uzdevumus: "100 g autora"- apkopoja informāciju un sagatavoja prezentāciju par dzejoļu autoru M.Freimani; "100 g mūzikas" – veidoja muzikāli poētisku priekšnesumu, izmantojot M.Freimaņa dziesmas ar autora tekstiem; "100 g krāsu" – veidoja dzejas vizuālās pasaules atspoguļojumu; "100 g jautājumu un atbilžu dzejā" – veidoja "interviju" ar autoru, domājot par jautājumiem, uz kuriem rosina dzejas teksti. (Skolotājas: Ilze Zīriņa-Eglīte un Inta Janule)
10.c klase veidoja dažādus eksperimentus ķīmijā un praktiski noskaidroja, kā mainās cilvēka kuņģa vide, ēdot un dzerot dažādus produktus, kā arī to, kas notiek, ja aizdegas taukvielas, u.c. jautājumus. (Skolotājas: Ilona Brakovska, Dace Ulāne)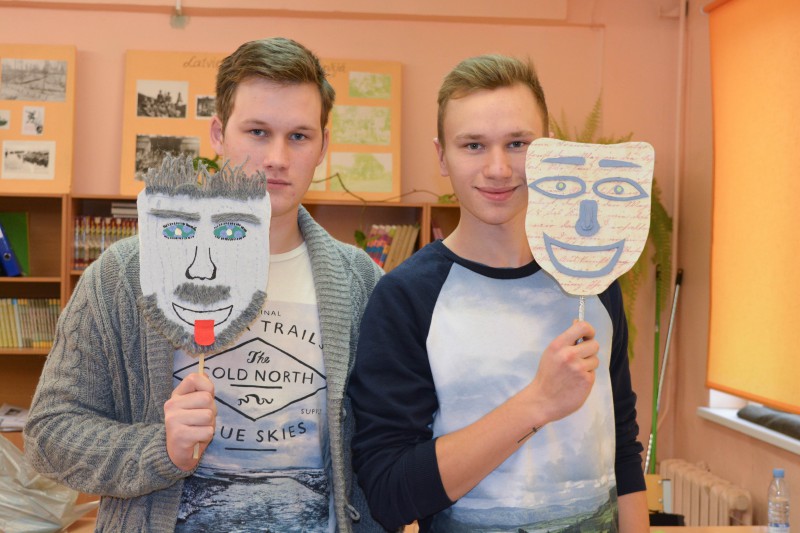 11.b klase veidoja maskas un radoši prezentēja, izpētot tās Senajā Grieķijā un Renesanses laikmetā. (Skolotāja Inta Romanovska)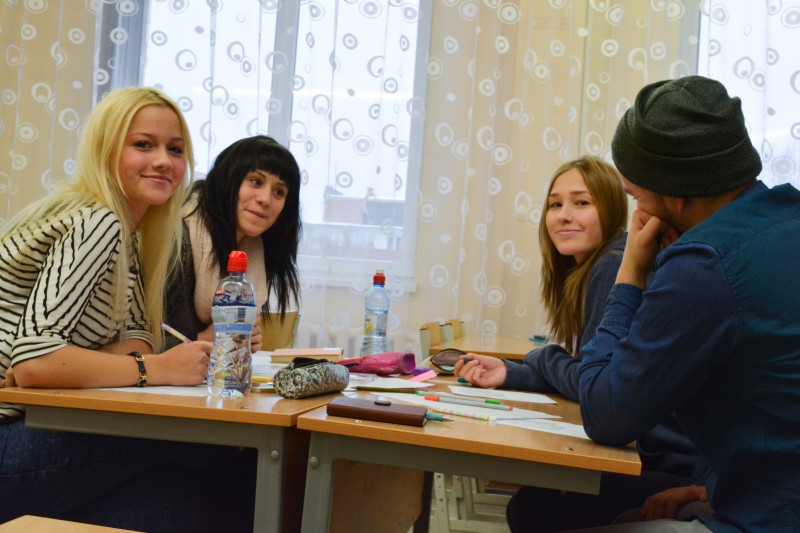 11.c klase piedalījās komandu sacensībās matemātikā, meklējot radošus risinājumus gan atjautības, gan loģikas, gan arī olimpiāžu uzdevumiem. (Skolotājas: Lilita Ikauniece, Laila Ločmele)
11.d klase iepazinās ar jaunu metodi, kā lasīt mājas lasīšanu svešvalodā, lasot visi vienu stāstu, bet katra grupa improvizējot savu atsevišķu tēmu. (Skolotāja Daina Bērziņa)
12.a klase vispirms apguva improvizācijas teātra pamatprasmes, noteiktas improvizācijas tehnikas, tad izspēlēja bioloģijas mācību priekšmeta saturu, izmantojot improvizācijas tehnikas. (Skolotāja Līga Sausiņa, vieslektore – Inga Krišjāne)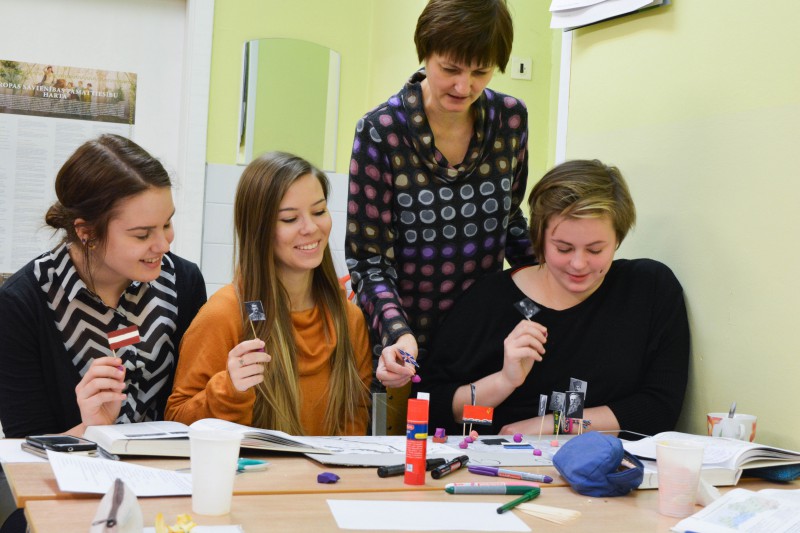 12.b. klase izpētīja Brīvības cīņas Latvijā (1918-1920). Izmantojot dažādas prezentācijas tehnikas (PowerPoint, video, papīra u.c. maketus), izveidoja saprotamu un pārskatāmu informāciju par Brīvības cīņām, lai uzlabotu skolēnu vēstures zināšanas un iemaņas prezentāciju veidošanā. Izveidotas trīs darba grupas, kuras olimpiādes noslēgumā prezentēja savu veikumu vispirms klasē, bet pēc tam arī skolas biedriem. (Skolotāja Inese Berga)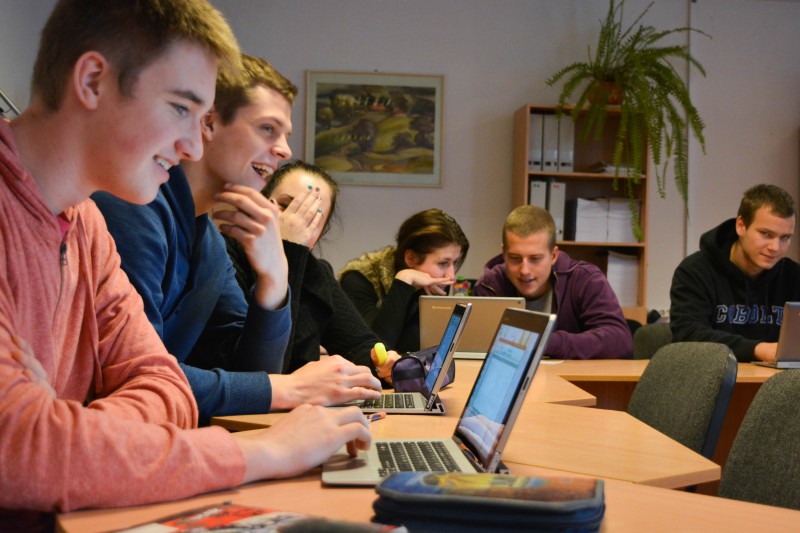 12.c  klase diskutēja par to, kas ir teātra izrāde, kā tai gatavoties, kā izrādes galveno domu palīdz atklāt tēlu darbība un rekvizīti,  kā arī noskatījās I. Ābeles drāmu "Dzelzszāle" Nacionālā teātra aktieru izpildījumā. Radošais uzdevums bija saistīts ar izrādes programmas veidošanu, izmantojot planšetdatorus un to piedāvātās iespējas. (Skolotāja Inguna Vuškāne)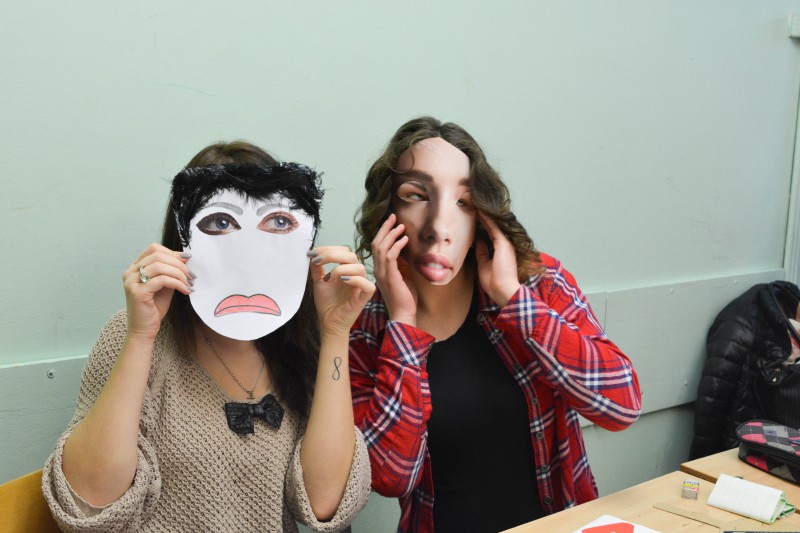 12.d klases Radošās olimpiādes devīze: "Dzīve ir teātris – cilvēki aktieri."  /V.Šekspīrs/ Tēma:  Maskas kā personības atspulgs. Uzdevums – izveidot kāda ievērojama mākslinieka vai cilvēka–leģendas kultūrportretu, masku (vizuāli veidotu, krāsotu u.c.), un argumentēt savu redzējumu. (Skolotāja A.Ūdre)
       Esam gandarīti par skolēnu un skolotāju radošajām idejām un to realizāciju, brīvo atmosfēru, kas valdīja mācību kabinetos, jo, tikai radoši attīstoties,  mēs veidojamies par personībām, kļūstam mēs paši.
Pasākuma bildes pieejamas SVĢ draugiem.lv lapā.
Inguna Vuškāne,
direktora vietniece izglītības jomā