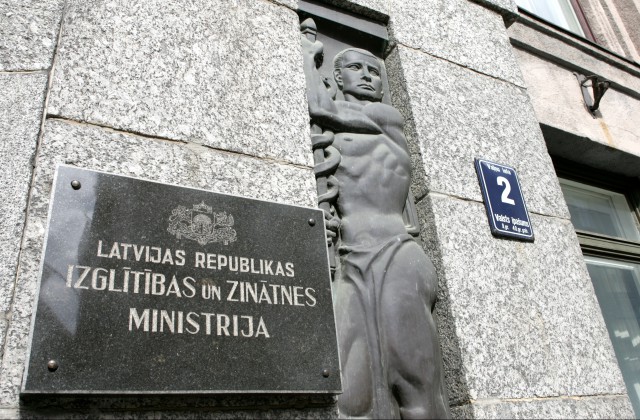 Trešdien, 2016.gada 13.oktobrī, Valsts ģimnāziju vadības pārstāvji tika aicināti uz sanāksmi Izglītības un zinātnes ministrijā. To vadīja Izglītības un zinātnes ministrs Kārlis Šadurskis, piedaloties Izglītības departamenta direktorei Evijai Papulei un departamenta direktora vietniecei vispārējās izglītības jomā Inetai Īvānei.
Galvenie sanāksmes jautājumi ietvēra plānotās izmaiņas Vispārējās izglītības likumā, jaunā pedagogu darba samaksas modeļa apspriešanu un kompetencēs balstīta izglītības satura ieviešanu.
"Mana vēlme ir redzēt Valsts ģimnāzijas kā ekselences centrus", tā sanāksmes ievadā sacīja Izglītības un zinātnes ministrs K.Šadurskis, uzsverot, ka izglītības sistēmā jāpastāv kristalizācijas centriem, no kurienes, kā no labākajiem piemēriem, pārmaiņas izplatās visā izglītības telpā, un kas gan cits, ja ne Valsts ģimnāzijas šo lomu var uzņemties.
Ministrs atzīmēja – lai šo ekselences līmeni būtu iespējams sasniegt, ir vajadzīgs legāls un sabiedrībā saprotams veids, kā valsts varētu Valsts ģimnāzijas atbalstīt, tai skaitā finansiāli, ar pedagogu atalgojumu, mācību bāzi, infrastruktūru un dienesta viesnīcām.
Kā viena no svarīgākajām problēmām, pēc ministra domām, šobrīd ir tā, ka nauda seko skolēnam, līdz ar to pastāv divi galvenie kritēriji Valsts Ģimnāzijas statusam – sniegums un bērnu skaits. K.Šadurskis izteica vēlmi: "Es ļoti gribētu pāriet uz sistēmu, ka Valsts ģimnāzijā nauda seko nevis skolēnam, bet nauda seko programmai".
Tāpat K.Šadurskis atzina, ka Valsts ģimnāziju pārņemšana valsts īpašumā bijis nepārdomāts lēmums, kas nav labākais risinājums izcilības attīstīšanai.
Lai nonāktu pie vienprātības, kas politikas veidotāju izpratnē ir termins "izcilība" jeb "ekselence", un pēc kādiem vienotiem kritērijiem turpmāk vērtēt Valsts ģimnāzijas, tika nolemts veidot darba grupu, tās sastāvā iekļaujot arī Siguldas Valsts ģimnāzijas direktoru Rūdolfu Kalvānu.
Spriežot par jaunā pedagogu darba samaksas modeļa ieviešanas rezultātu, ministrs atzina, ka diemžēl pie ārkārtīgi dažādā skolu tīkla, pašvaldību tipa un iedzīvotāju blīvuma nevar pastāvēt viens modelis, kas ir labs visiem. Izglītības sistēmā nav iespējams atrisināt to, ko nav spējusi izdarīt administratīvi teritoriālā reforma.
Noslēgumā ministrs aicināja Valsts ģimnāzijas uz ciešu sadarbību ar Izglītības departamentu un  Valsts izglītības satura centru darbā pie jaunā izglītības standarta.
"Jūs būsiet mums vislabākie padomdevēji un ieviesēji reformu procesā!" tā savu nostāju par Valsts ģimnāzijām pauda Izglītības un zinātnes ministrs.